At a Glance
With the wide variety of bed linen available, how do you choose the perfect sheets for you? Here are tips to help you pick according to your desired material, design, and personal needs.
Quick Tips
Know the different bedsheet materials.
Pick a design that fits your taste.
Consider factors affecting fabric quality.
Match the sheets with your mattress size.
Shop smart.
You're back from a long day at work or a great dinner with friends. You've taken a warm shower and it's time to snuggle beneath the bed linen. How do you get that perfect feeling that transports you back to your favorite hotel room? More importantly, how do you spend a night of great sleep that rejuvenates you for tomorrow?
The choice of bed linen is both objective and subjective. Choosing quality bedding with good design is important, but everyone's definition of "comfortable" is different. Everywhere you go there is such a wide range of materials, colors, and specifications - how do you choose?
Here are things to look for and tips to help you get the best bed linen in Singapore with the right material, right design, and right for you! 
5 Factors To Consider When Choosing Your Perfect Bed Linen
1. Type Of Material
Cotton, linen, or TENCEL™ Lyocell - which among these popular bedlinen materials is better for a good night's sleep? The choice really depends on the feel and experience you'd like when falling into a deep slumber.
Cotton

Featuring Weavve's Cotton Classic Set in Tea Rose

It is the most common material and for good reason. High-quality cotton looks luxurious, is extremely comfortable, and stands the test of time. Higher quality cotton bed linen also gets softer and more comfortable as you wash it, making it a good investment.
TENCEL™

Featuring Weavve's Signature TENCEL™ Deluxe Set in Cloud White

A branded material by Lenzing, TENCEL™  is made from eucalyptus cellulose fibers. The following are some of the reasons why it is well-loved:
Good, original TENCEL™ is extremely smooth, and cool to the touch. Choose this if you love silky smooth bedding sets. As a type of Lyocell, TENCEL™ Lyocell uses a closed-loop manufacturing process, meaning waste products are recycled to create the next batch. This is different and more environmentally friendly than other Rayons like Viscose or Modal.
Linen
Linen is another great material made from the flax plant. It is breathable and absorbs moisture well, making it great if you live in warmer climes and don't like to use air conditioning. It has a lush feel but is very different from the smoothness of TENCEL™. It is also more expensive than a cotton sateen bed linen.
2. Fabric Quality
Next, the quality of the material will have the highest impact on comfort. The following are the common considerations in evaluating quality, applying mostly to cotton fabrics:
Staple Length
Weavve's Extra-Long Staple Cotton Fibers

Go for long staple fibers or better yet, extra-long staple fibers. Extra-long staple cotton fibers come from a specific breed of cotton plant, the Gossypium Barbadense plant. These are spun into stronger, finer yarns. Here are things to note when looking at the staple length:
Fewer extra-long staple fibers are required to spin the same length of yarn. This results in minimal loose ends, making the bed linen smoother and more comfortable.
Fewer interruptions in the yarn due to long staple lengths also create a stronger fabric.
Egyptian cotton is famous for its comfort and strength, but this only applies to extra-long staple Egyptian cotton. Most Egyptian cotton is not of this variety and other cotton types may offer the same quality for less cost.
Yarn Count
Weavve's 100s Yarn Count Bed Linen

Bed linen with a higher yarn count gives a smoother, softer, and lighter feel.  When looking at yarn count, 60 to 80 will provide a good level of comfort, but 100 yarn yields a much more luxurious feel.
The higher the number, the finer the yarn. This is because more yarns can fit into a smaller area, increasing the maximum thread count possible.
Ply

Weavve's Single-Ply Threads

Single-ply yarns are more durable, smoother, and lighter since the threads are comprised of single-ply of fibers. Their strength yields a higher quality fabric that pills less.
On the contrary, multi-ply yarns having two to three-ply numbers are spun from a group of weaker threads.
Thread Count
Experts agree that the highest number of threads one can squeeze into a square inch is 600. How does other bed linen achieve a thread count of 1000 or more?
By using a metric system of 10 cm squares versus a square inch, bed linen thread count can be measured 50% higher without actually increasing the number of vertical and horizontal threads.
By using weaker, multi-ply threads. Each ply is marketed as a thread, so a three-ply yarn can be marketed at three times the thread count.
When in doubt, opt for extra-long staple fibers, high yarn count, and single-ply yarn. Thread count matters less if it's above a certain limit (around 400 to 600 TC).
3. Function And Ease Of Use

Featuring Weavve's Signature TENCEL™ Pillow Case Pair in Mist Grey

Does your duvet always slip out of the duvet cover? Or maybe pillows keep coming off their pillowcases that you often find them on the floor. Whichever's causing you distress, it comes down to selecting well-constructed bedding. It should have the following features that may seem small but are pivotal in making the material much easier and more comfortable to use:
A side-fed pillowcase type comes out easily and often and doesn't fit all pillow sizes well. Look for an envelope opening at the back that helps cover and contain the pillow well. Preferably, the slit opens closer to one end of the pillow and not down the center, so it is easier to wrap and remove the opening.
Look for stronger elastics bands on fitted bed linen to help keep it in place through the night.

Featuring Weavve's Cotton Pillow Case Pair in Midnight Blue


Similarly, duvet ties inside each corner of the quilt cover keep the duvet spread out within the quilt cover. Buttons at the opening help keep the duvet from slipping out, keeping you warm and snug throughout the night.
Great bedding sets are an investment and should last longer. There will be more stress on certain openings and weak points. Look for reinforcements like bar tacks at pillows and duvet cover openings.
Opt for cloth-covered buttons. These reduce the impact of buttons coming into contact with the washer, ensuring your buttons last longer while getting rid of that irritating, constant clicking sound.

 
5. Design

Featuring Weavve's Personalized Embroidery on Pillowcase

You've spent time outfitting your house to look great, investing in a nice mattress and bedframe, and now you're going to spend on a great set of bed linen. Great bed linen should not only give you a great night's sleep but elevate the elegance of your bedroom. Some design features that you might like include:
Embroidery is a classy feature when employed subtly. A nicely designed logo that isn't too big or too obvious will create a feeling of understated elegance.
Stylish piping features create a more sumptuous feel to your pillowcases and duvet covers. Make sure these don't get in the way of comfort as you sleep.
Openings where the buttons close up on the inside of the case allow you to not feel the buttons as you snooze through the night. 
More basic colors can help accentuate other hero pieces, while stronger colors focus the attention on your bed as the centerpiece of your bedroom. Choose a color that matches the overall theme of your bedroom and house. If you're going for a sophisticated look, having the same color for both fabric and design elements like piping and embroidery will add that touch of style.
6. Your Preferences

Featuring Weavve's Signature TENCEL™ Deluxe Set in Lilac Mauve
At the end of the day, it's all about you, your sleep, your bedroom, and your home. This is where it gets personal, it needs to be right for you. With the help of the previous points mentioned, figure out what bedding features and qualities matter to you and how much you're willing to spend on them.  
3 Tips When Choosing The Perfect Bed Linen
1. Know Your Mattress Size
Even though we're familiar with Single, Queen, and King bed sizes, every manufacturer's dimensions are slightly different.
Mattresses also have various heights. The trend today is for thicker mattresses where multiple layers have been engineered together to give greater comfort. Make sure your fitted bed linen has sufficient depth for your mattress by checking a size guide before you purchase.
2. Pick Bed linen Sets That Fit Your Distinctive Taste
Design plays an unassuming but critical role. Feel free to mix and match various sets, creating a look and feel unique to you!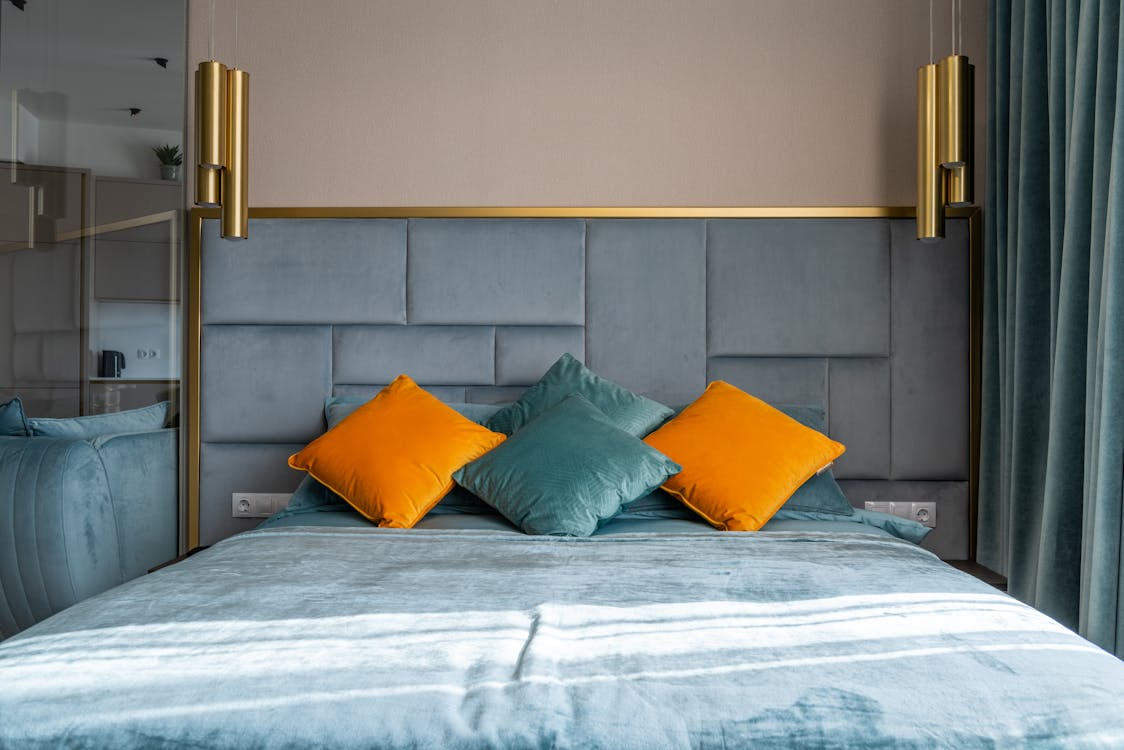 Image by Max Vakhtbovych from Pexels

While matching hues look great, contrasting colors can be a nice touch too! The level of contrast is both a matter of personal taste and overall room design. Light contrasts will create a more engaging appearance, while stronger contrasts will give your bedroom a bolder feel.
3. Shop Smart
At a store, see if you can test lying on the bed linen and pillowcases. It's better to try them out in person but if you're buying bedding sets online, look for brands that offer free trial periods or have offline events that allow you to feel the material.
Some trial periods even come with a free return policy, ensuring you will not be out of pocket if you don't like the items and make a return! Be sure to comb through the reviews as well to help you decide between different brands and materials.
Find The Best Bedding For You At Weavve 
Weavve's TENCEL™ Lyocell Bed Linen

Featuring Weavve's TENCEL™ Deluxe Set in Sand Taupe

Enjoy a luxurious hotel experience in the comfort of your home without worrying about chemicals with our sustainably made TENCEL™ bed linen! From sourcing, production, and sale, processes are eco-friendly and certified free from both regulated and non-regulated harmful substances. 
Our TENCEL™ bed linen sets are also naturally smooth, cooling, and hypoallergenic, making them ideal for hot sleepers and people with sensitive skin. 
-
Shop TENCEL™ bedlinen Singapore
Cotton Sateen Bed Linen 
Featuring Weavve's Cotton Classic Set in Midnight Blue
Our cotton bedding sets are a preferred choice if you're looking for a well-designed and long-lasting material because of their sturdy, smoother, and lighter fibers. We use single-ply threads and finer 100 yarn count extra-long staple cotton fibers that have been spun (600 thread count). The sateen weaving technique also gives our bed linen that luxurious sheen and smooth feel.
-
Shop cotton bedlinen Singapore
Cotton Pillow Case

Featuring Weavve's Cotton Pillow Case Pair in Tea Rose

Looking for something cool and comfortable to sleep on? You'll never go wrong with cotton. Our premium pillow case features 1/3 back envelope openings to keep the pillow snuggly fitted and your sleep uninterrupted.
-
Shop cotton pillowcases Singapore
Silk Pillows

Featuring Weavve's Silk Pillows

Naturally hypoallergenic and thermal regulating, our luxurious silk pillows are perfect for any weather and temperature given their natural long-stranded silk floss. Creating an elegant vibe in your bedroom is not far-fetched with these beautiful pieces!
-
RESPONSIBLY MADE
Here at Weavve, we pride ourselves on being committed to responsible sourcing, production, sale, and use of our products. We take a great effort in ensuring that our decisions account for all the people who help build our products, the environment, and our consumers. From Standard 100 by Oeko Tex® certified sheets to SEDEX certified factories, Weavve makes sure that everyone is cared for at every step of the way.