At a Glance
If you live in warmer areas, temperature-regulating sheets can be your friend. They are designed to keep you comfortable all year round regardless of the season.
Quick Tips
Investing in premium temperature-regulating sheets can help you save in the long run.
Consider the thread count, weave method, and moisture-wicking properties.
With Singapore's warmer climate, some of us may find it hard to fall asleep during the nights. As a result, you might find yourself perspiring when you should be catching those z's instead, and we all know, that feeling is neither pleasant nor comfy. Just in case you didn't know, feeling too cold or too hot makes it harder for us to fall and stay asleep. And here's why investing in the perfect pair of cooling sheets is beneficial for you. 
So what exactly is a temperature regulating sheet? Essentially, when a bedding sheet is airy, breathable, and perfectly weighted simultaneously, they'll put an end to overheating and humidity build-up for maximum sleep comfort.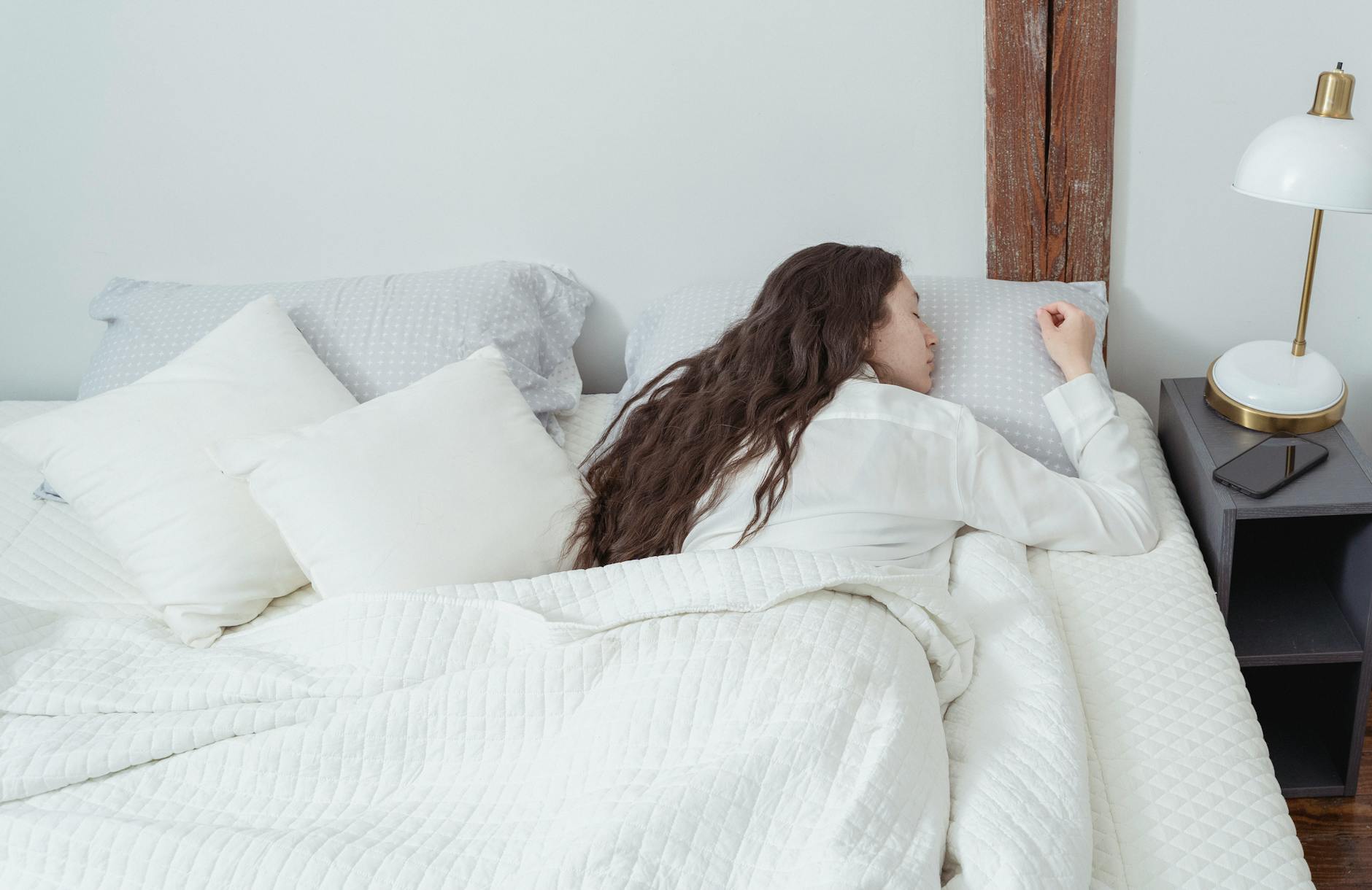 Image by Miriam Alonso from Pexels
The combination of temperature-regulating technology and the fiber's ability to absorb and store excess heat when you're too warm and release heat when you're too cool is what ensures that the bedroom stays cool and comfortable.
No matter the time of the year, these temperature sheets will keep you sleeping at an ideal temperature.
What other factors play a part in regulating our body temperature?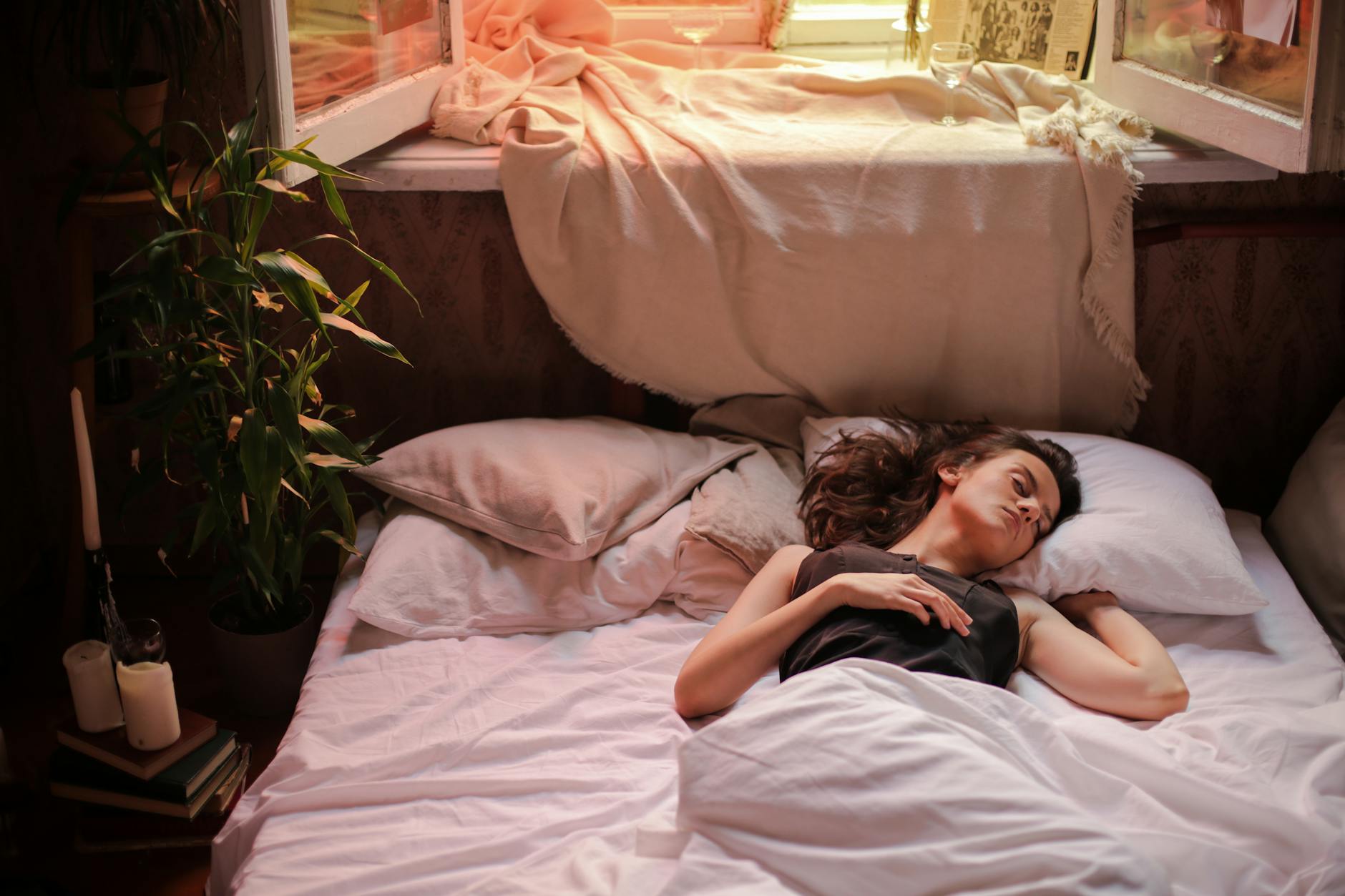 Image by cottonbro from Pexels
Besides flat sheets and fitted sheets that assist sleepers in maintaining a comfortable body temperature, bed sheets do have the ability to keep your body cool through the night depending on the type of fabric that is used. Properties such as moisture management and breathability of the fabric can help regulate your body temperature if you are a hot sleeper. 
How do temperature regulating sheets work?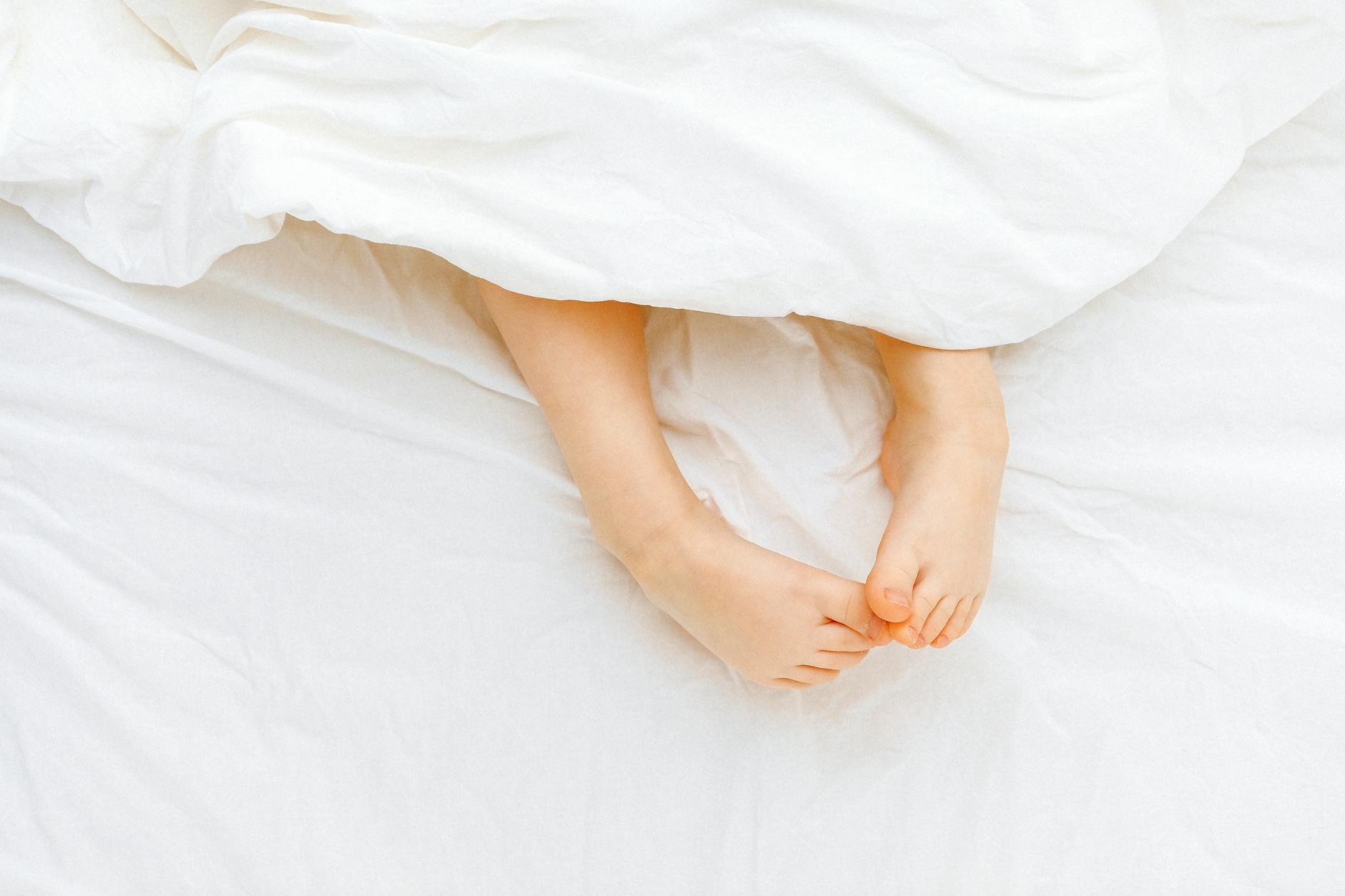 Image by Anna Shvets from Pexels 
Moisture Wicking Abilities
A sheet's moisture wicking abilities will determine how much it can keep you feeling fresh and free of night sweats during your sleep. This property is also a key factor in temperature regulating sheets as the ability to remove excess moisture will help lower your body temperature.
Breathability
Following the factor of moisture absorbency, although cool wicking sheets manage moisture well, they are not always breathable. That could be the reason for inducing your night sweats. As our bodies naturally regulate our temperature through perspiration, this would be hard to do with less breathable sheets.
Type of Weave
The type of weave methods describe how threads are woven together to make a fabric as different weave methods often result in different levels of breathability. It also affects the sheet's appearance and how the skin feels upon how cooling the sheets can be. For instance, sateen and percale weave cotton sheets can give off different skin contact feels due to their differences in weave method.
Thread Count
Thread count also plays a key role in how cool your sheets can get, as lower thread count sheets trap heat, bed sheets with a thread count of 200 to 400 for cooling sheets would be recommended. However, it also should be noted that thread count is not the largest determining factor on whether a sheet is of good quality. 
Bed Sheet Material
There are several cooling bed sheet materials to choose from based on your preferences. However, there are a few more popular choices for cooling sheet fabrics like TENCEL™ (from eucalyptus), bamboo and cotton. Here is a breakdown amongst the three popular cooling materials and how their properties allow for you to sleep cool.
TENCEL™, bamboo and cotton bedsheets all possess cooling properties at varying degrees. Amongst these three fabrics, TENCEL™ Lyocell sheets are the best choice for a cooling bed sheet due to their excellent moisture wicking abilities and high breathability.
They are some of the best bed sheet materials for sensitive skin too. Natural or plant based fibers are good options and usually recommended as they have properties such as being breathable, moisture wicking and hypoallergenic to reduce the build up of moisture on the skin. This keeps the sheets and bedding clean and dry to prevent skin irritation.
Cotton Bed Sheets
Image by Threadcurve
Cotton fibers are natural hollow fibers, hence cotton fabrics are known for their breathability and softness where its cooling abilities could be further enhanced by its weave method. Typically, Percale and sateen weaves are best suited for cooling and soft sheets as they are more breathable and lightweight. Sateen sheets are slightly heavier than percale sheets as they have a complex weave structure but they are more wrinkle resistant and quieter due to their silkier texture as compared to percale sheet's crispier feel.
Depending on whether you want sleep cool or cozy, TENCEL™ and cotton bed sheets could be your ideal choice, as there are varying differences between the two fibers that will result in different levels of comfort. So, if you are looking to slip under something cozy for a good night's sleep, cotton may be the material for you. 
Bamboo Bed Sheets
Image by a good company
Bamboo fibers have desirable qualities as well when it comes to making cooling sheets. They were found to be both thermoregulating and hygroscopic meaning they keep sleepers cool overnight (or, when necessary, warm), and wick away moisture, eventually absorbing it, to keep sleepers nice and dry. They were also more breathable, softer and more flexible than cotton. Furthermore, an additional perk of bamboo fibers are that they are naturally antibacterial and antifungal.
So what qualities make bamboo sheets cooling? A study observing the fiber's performance in warmer temperatures showed that they can efficiently reduce the heat trapped in your body. This is reflected in the fiber having the lowest thermal resistance amongst cotton and TENCEL™ fibers when compared to bamboo fibers, which will help to lower your core body temperature.
TENCEL™ Bed Sheets
Image by TENCEL™
TENCEL™ Lyocell fibers (apart from TENCEL™ Modal) are their latest generation of fibers by Lenzing AG and are also the coolest fiber type produced by them, making it stands out as an extremely breathable, temperature regulating and absorbent fabric. Lyocell fibers can wick excess moisture away quickly, keeping the body cool during sleep in a wide variety of climates. With our lyocell bed linen, you can be sure to stay cool throughout and have less worries over night sweats disrupting your sleep.
Thanks to the natural structure of the Lyocell fiber, Lyocell is most well known for how it feels - exceptionally luxurious and smooth on the skin. With a silky hand feel, it's more gentle than regular cotton and linen, thus making it beneficial for babies, and those with sensitive skin or allergies. As a naturally derived fiber, Lyocell is also hypoallergenic. Softness breathability like a cloud, light and breezy - just the perfect environment for a peaceful night of sleep.  
At the end of the day, your personal preference plays the biggest role in purchasing the best quality bedding for yourself. Whether you'd prefer a warmer sheet to be snug and cozy or a cooling sheet to suit Singapore's humid weather, we have compiled a guide of the most common fabrics and weaves for you to make a better, well-formed choice for buying bed sheets.
Do cooling sheets really work for night sweats?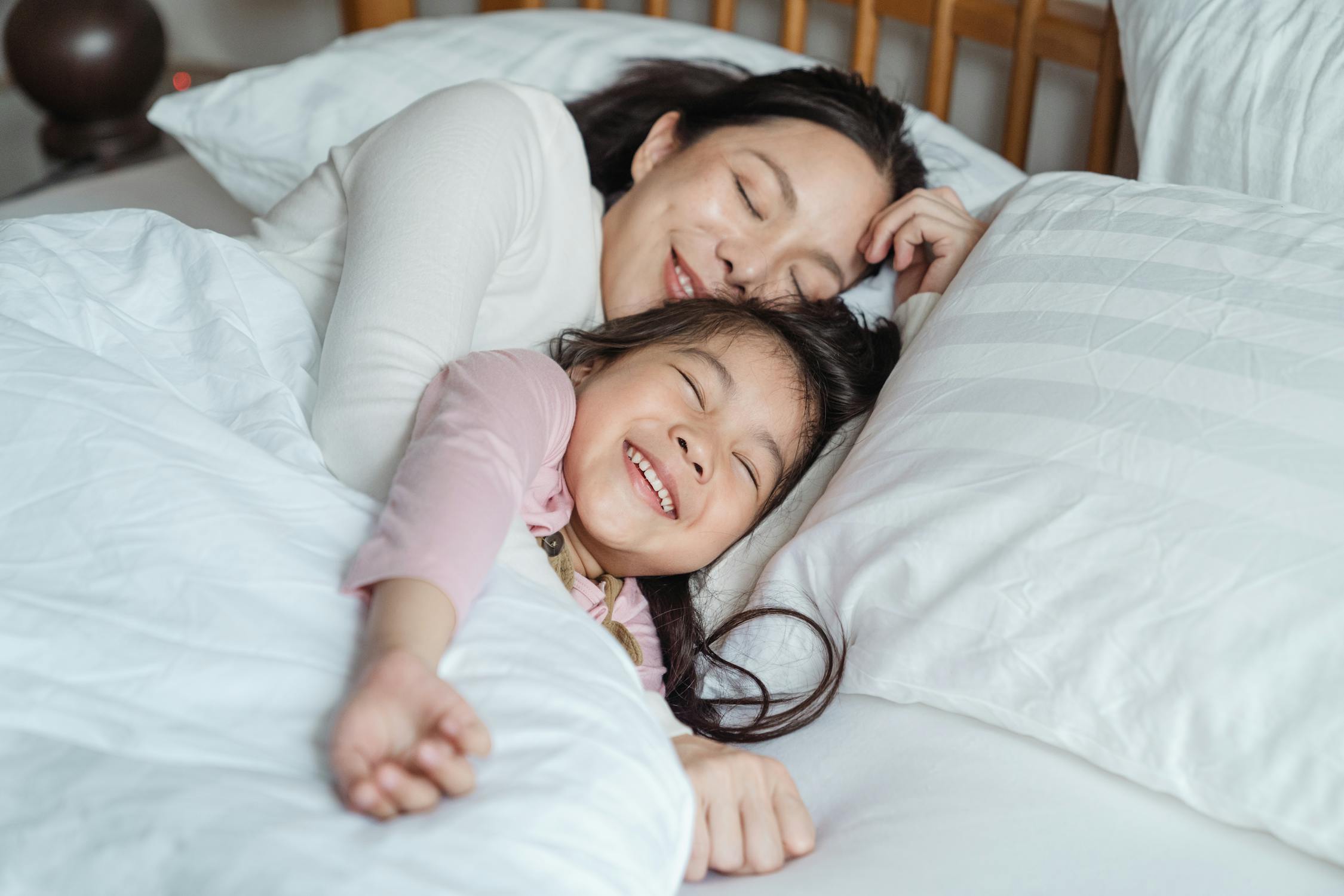 Image by Ketut Subiyanto from Pexels 
Definitely! Instead of turning on your air conditioner or fan to cool down your room, you could opt for cooling bed sheets as an alternative to manage your sleeping temperature. Cooling bed sheets can also be seen as an investment for both your sleep quality and wallet in the long run with them being more eco friendly as well.
Click here to shop our best selling and ultra cooling bed sheets!
DISCOVER WEAVVE'S COOLING BED SHEETS AND BEDDING
Weavve's bed sheets are all responsibly made and Oeko-tex certified, ensuring that you sleep not only safely, but comfortably as well. Our bed sheets are free of toxins and harmful chemicals which make them ideal bed sheets for sensitive skin. 
TENCEL™ Lyocell Bed Sheets
Featuring Weavve's TENCEL™ Lyocell Deluxe Set in Sky Blue 
Our sheets are purely made with 100% TENCEL™ Lyocell fibers from Lenzing (100% Lenzing TENCEL™ sheets) that are spun into the finest 80s yarn count threads. These fine single ply threads are then woven into 400 thread count fabric, giving you stronger, smoother and lighter sheets. 
Discover our TENCEL™ fiber bedding sets and separates that will elevate your sleeping experience with its cool and silky feel. However, if you prefer a buttery soft and crisp alternative, we also have a range of Cotton bed sheets that will immerse you into a hotel-like experience right at home. 
Shop TENCEL™ Bedsheets Singapore
Cotton Sateen Bed Sheets 
Featuring Weavve's Cotton Deluxe Set in Sandshell
The Weavve cotton sateen bed sheets are made with 100% long-staple cotton fibers with a 100 yarn count of fine single ply threads. This allows our sateen sheets to be irresistibly soft, smooth and strong, the use of single ply threads also means that they are lighter in weight as well.
Our cotton sateen bed sheets use a four over and one under weave pattern as well as processes like singeing and calendaring to give them a luxurious sheen and smooth hand feel. Pre shrinking also prevents our sheets from shrinking during regular washing, thus ensuring a longer sheet lifespan.
Shop Cotton Bed Sheets Singapore
Responsibly Made
Here at Weavve, we pride ourselves on being committed to responsible sourcing, production, sale and use of our sheet sets. We take great effort in ensuring that our decisions account for all the people who help build our products, the environment and our consumers. From certified Standard 100 by Oeko Tex® sheets to SEDEX certified factories, Weavve make sure that everyone is cared for at every step of the way.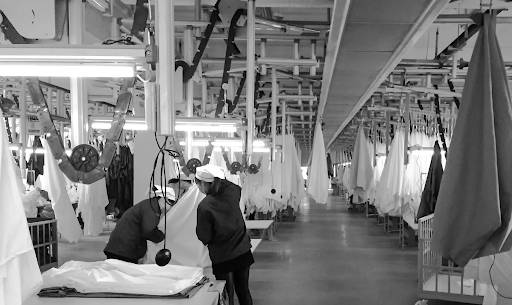 100 Days To Sleep On It
Buying a sheet should be easy and delightful. Here at Weavve, we are fully committed to making exceptional products and our 100 day free return policy* makes it easy for you to take the leap of faith, especially for first time users. Learn more about our 100 Day Free Trial.